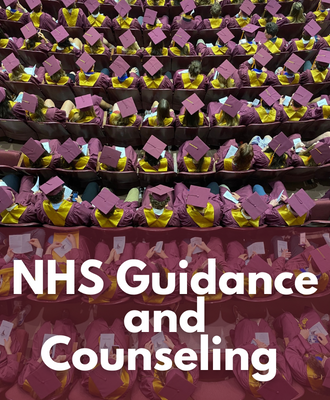 Welcome NHS Students and Families!
The Guidance & Counseling Department at Newburyport High School uses a holistic approach to student learning, health, and wellbeing. Our school counselors strive to enhance the academic and personal experience of our students by forming safe and authentic relationships.

The Guidance & Counseling Department provides a multitude of services and resources to assist students in developing plans for the future. The School Counseling Program is committed to focusing on the needs, interests, and issues related to student growth as well as the individual development in academic, career, and personal/social areas. By guiding and nurturing the whole student, we help build the skills necessary to be successful both academically and socially at NHS and beyond

In addition to our traditional school counselors, a limited number of school adjustment counselors provide support for students who experience emotional distress that interferes with their ability to make progress in school or who are returning from therapeutic hospitalizations and require emotional support. School adjustment counselors provide psychological services as required for special education students in their IEPs, as well as individual counseling for general education students when referred by the school counselor.
SCHOOL COUNSELOR ASSIGNMENTS
Upon entering ninth grade, students are assigned to a school counselor primarily using an alphabetical system. Some students are assigned to a school counselor outside of their alphabetical breakdown in order to keep family members together or to balance counselor caseloads. Students are assigned to the same school counselor for their four years of high school.

To discuss a question or concern, or to schedule an appointment, students and families can contact their school counselor directly by phone or email.
For School Counseling Graduate students who are interested in interning within the guidance department at Newburyport High School, please reach out to Lauren Gee at lgee@newburyport.k12.ma.us for further information.